Reunion 2012 will celebrate Grenfell Campus
By Melanie Callahan | July 26, 2012
Grenfell Campus will officially kick off Reunion 2012 festivities with havin'a time: With a View of the Stars.
The opening reception will commence with an exhibition and sale of Grenfell alumni artwork, coupled with a classical music performance featuring Wesley Harris and Margaret Culliton. Guests will enjoy traditional Newfoundland cuisine appetizers, and will proceed to the Grenfell Campus Observatory where they will have the opportunity to gaze at the night sky through Atlantic Canada's largest telescope. The event will take place at Ferriss Hodgett Library.
"Being one of Grenfell's alumni myself, I am thrilled to be a part of the opening reception," said Crystal Rose, public services librarian and one of the event organizers. "People who have attended receptions at the library are always surprised at what a great space it is for throwing a party. It is going to be a wonderful opportunity for supporters of Grenfell, alumni and friends to celebrate everything we have accomplished at our campus."
As part of Memorial's first ever all-year, all-faculties and all-campuses reunion, Reunion 2012 is happening Aug. 8-10 at Grenfell Campus for all Grenfell and Memorial alumni and friends.
As part of Grenfell Campus' reunion, you can enjoy reduced rates for events such as Marble Zipline adventures, a round of golf at the spectacular Humber Valley Resort golf course and a Crystal Waters boat tour. Learn to kayak at Tipping's Pond, join us for a day trip to Cedar Cove, bring your children to one of our kid camps or enjoy the traditional music of Swig Away at the Backlot.
Professor Dave Broadbeck's presentation, The Blog Ate My Homework, family swim at the campus pool, family fun day and barbecue and the Western Regional School of Nursing open house, health fair and teddy bear clinic are all available free of charge.
"This is a great opportunity for all our alumni and friends on the west coast to come out and celebrate our collective achievements as Newfoundland and Labrador's university," said Charles Pender, newly-appointed director of Alumni Affairs and Development, Grenfell Campus. "Whether you graduated from the St. John's campus, Marine Institute or Grenfell Campus, we invite you to join us in Corner Brook for these events."
All events are open to the general public. To register for these events or for more information and schedule, please visit
www.grenfell.mun.ca
, email
reunion2012@grenfell.mun.ca
or call 709-637-6235.
Snapshot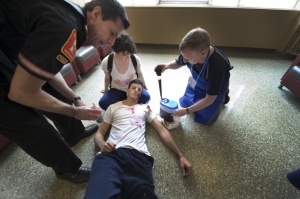 Role Play