Vision Quest conference features Memorial researchers
By Sharon Gray | July 26, 2012
Researchers in the Faculty of Medicine at Memorial will play a prominent role in the 2012 Vision Quest conference, taking place on Saturday, Sept. 20, at the Sheraton Hotel. The conference is part of a national Vision Quest forum, hosted by the Foundation Fighting Blindness, Canada's largest registered charity funding vision research.
Vision Quest will allow vision health professionals, visually impaired attendees and their families and friends, to hear about the latest in vision research and have all their retinal disease questions answered by the country's top vision scientists. Topics include the state of retinal research today, age-related macular degeneration and emerging possibilities, research to restore vision, living with vision loss and finding services in an around St. John's.
Among the featured researchers are Dr. Robert Gendron and Dr. Jane Green, professor of genetics. Dr. Gendron and colleague Dr. Hélène Paradis, professors in the Division of BioMedical Sciences, head up one of seven Canadian research teams that will receive new funding from the Foundation Fighting Blindness. The researchers will receive $210,000 over three years to study the underlying causes of wet age-related macular degeneration (AMD) and the changes in protein production in the aging eye which cause blood vessels to leak fluid in people diagnosed with this condition. By understanding the underlying causes of wet AMD, this team hopes to facilitate the design of treatments which could prevent or reverse the disease.
Dr. Green has studied hereditary eye disease for decades, making use of the unique features of the Newfoundland population – large family size, genetic isolates resulting in clusters of genetic disease and well-documented migration patterns to, and within, the province. Her role in genetic research projects is the complete ascertainment and accurate clinical characterization of the family or families and archival studies. She works closely with molecular geneticists and genetic counsellors; families participating in the research have benefited from clinical and genetic screening programs developed and implemented based on the research results.
The Vision Quest conference will be split into two keynote lectures, one provided by Dr. Gendron, and two breakout segments, split between Dr. Gendron and Dr. Green. The breakout sessions will allow attendees to meet in small groups to share their experiences and ask questions of the experts.
For more information about the Vision Quest conference, visit the Vision Quest webpage or call 1-800-461-3331 ext. 263.

Snapshot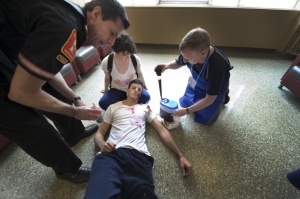 Role Play