New dean of Faculty of Engineering and Applied Science welcomed
By Darcy MacRae | July 31, 2012
The Faculty of Engineering and Applied Science welcomes a new dean on Aug. 1, as Dr. Greg Naterer officially joins the university.
Dr. Naterer was most recently a professor of mechanical engineering and associate dean of Engineering and Applied Science at the University of Ontario Institute of Technology (UOIT). He is a Canada Research Chair in Advanced Energy Systems, Tier 1, and served as UOIT's director of graduate programs and research from 2005-09. During this time, he led the development of six new graduate programs and rapid expansion of research capacity, including a new hydrogen energy building on the campus of UOIT.
"I am delighted and honoured to serve as dean of the Faculty of Engineering and Applied Science at Memorial University," Dr. Naterer said. "Both the engineering faculty and Memorial University have esteemed reputations throughout Canada and I look forward to working closely with those who have worked hard to establish this highly regarded status."
Dr. Naterer compiled numerous accomplishments during his time as associate dean at UOIT. He led the development of a new master of engineering in engineering management (MEngM) graduate program, and served as the chair of the faculty curriculum committee responsible for undergraduate curriculum development.
Prior to his time at UOIT, Dr. Naterer was a professor of mechanical engineering at the University of Manitoba from 2004-05. He was an associate professor of mechanical engineering at the University of Manitoba between 2000-04, after serving as an assistant professor at the university from 1999-2000. Dr. Naterer was also an assistant professor, mechanical engineering, at Lakehead University in Thunder Bay, Ont., between 1996-99 and completed a term position as assistant professor at the University of New Brunswick from 1995-96.
Dr. Naterer specializes in a number of research fields, including heat and fluid flow, energy systems and icing of structures. Dr. Naterer led an international consortium, involving eight collaborating institutions, five countries and six industrial partners, which developed the world's first large-scale copper-chlorine cycle of thermochemical water splitting for clean hydrogen production.
He has served in prominent national and international leadership roles throughout his career. He chaired the NSERC Discovery Grant Committee (Mechanical Engineering), thermophysics technical committee of the American Institute of Aeronautics and Astronautics (AIAA) and an international hydrogen production division of the International Association of Hydrogen Energy (IAHE).
Dr. Naterer is a former chapter executive director of Professional Engineers Ontario (PEO) and is a fellow of the Canadian Society for Mechanical Engineering (CSME), American Society of Mechanical Engineers (ASME) and Engineering Institute of Canada (EIC).
He received his PhD in mechanical engineering from the University of Waterloo in 1995, after earning a master of mechanical engineering from the university in 1991. Dr. Naterer received a bachelor degree in applied mathematics (dual specialization with mechanical engineering) from the University of Waterloo in 1989.
Dr. Naterer succeeds Dr. R. (Venky) Venkatesan, who served as dean pro tempore since July, 2011.
Snapshot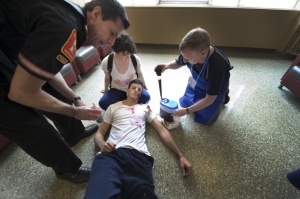 Role play