CBC broadcast premiere of documentary on musical tradition of Labrador Inuit
July 31, 2012
Till We Meet Again, filmmaker Nigel Markam's documentary on the Labrador Inuit choral traditions, will see its CBC broadcast premiere on Saturday, Aug. 4, at 8:30 p.m. in Newfoundland and 8 p.m. in most of Labrador.
The film emerged from a collaboration between Drs. Tom Gordon and Tim Borlase, the Nunatsiavut Government and the Moravian Church of Newfoundland and Labrador. Funding was provided, in part, by a substantial grant from the Social Sciences and Research Council of Canada.

The film follows the tour of the Innismara Vocal Ensemble and a group of instrumentalists from St. John's, Newfoundland, as they travel the Labrador coast to perform with local choirs and celebrate a musical legacy that remains fixed in the hearts of the people.

The film was shot over about 10 days last spring during the period from Palm Sunday to Easter Monday in Nain, Makkovik, Hopedale and Happy Valley-Goose Bay. Archival photos and interviews with musician elders are woven throughout the footage of the tour resulting in a rich tapestry of the extraordinary music's past, present and future.



Snapshot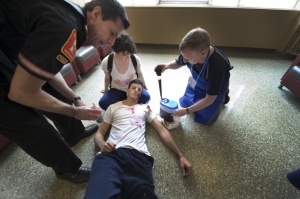 Role Play