From rowing a race to spinnin' a yarn
By Janet Harron | July 31, 2012
Faculty of Arts faculty member Patricia Dold is gearing up for two major events: the 194th running of the St. John's Regatta and Spinnin' a Yarn on Friday, Aug. 10.
Dr. Dold got involved as a spare for team Winmar last year and so enjoyed the experience that she's now in the boat alongside five other teammates and their coxswain.
Besides Dr. Dold, team Winmar boasts several Memorial connections. Marina Thistle is in the Dean of Arts office. Betty-Ann Lewis is secretary to the head of the Department of Biochemistry, Kelly Knight is in academic advising, and Bev Rendell is in alumni affairs. The rest of the team includes Sharron Zeller, Rosie Gillingham, and Dave Curran (coxswain).
There are definite similarities between rowing and reunions, according to the religious studies professor.
"Rowing in the regatta connects you to the city and to your community – it is one of St. John's biggest social events and rowing as part of this crew means sharing laughs, and friendship along with the hours of work at the oars," said Dr. Dold, whose research and teaching is mainly on Hindu religious traditions, including its great storytelling literature. "And with the reunion, it's a way of reconnecting with the Memorial community, with old and new friends. For me, participating in it means being part of my university in a different way from teaching or researching."
Memorial's Faculty of Arts is hosting Spinnin' a Yarn on Friday, Aug. 10, as part of havin' a Time: Reunion 2012. Billed as a celebration of storytelling and storytellers, the event features alumni and star faculty members telling their own tales.
Participants include CBC broadcaster Tom Harrington, Newfoundland Chocolate Company founder Brent Smith, folklorist Dale Jarvis, musicians Katie Baggs and Tom Power, Gerard Van Herk and Elizabeth Miller, archivist David Bradley, photographer and writer Dennis Flynn and graduate student Suzanne Power.
A super mixer in the lobby featuring music from Chris Youé and Glenn Collins, door prizes and a cash bar will follow the event in the Bruneau Centre's Innovation Theatre.
Spinnin' a Yarn begins at 7 p.m. and admission is $20. Alumni and friends can visit www.reunion.mun.ca/4305_spinnin_a_yarn.php for more information or to register.
Snapshot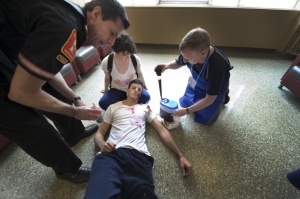 Role Play