One night, two reunions for arts alumna
By Janet Harron | August 2, 2012
Faculty of Arts alumna Katie Baggs is going to be plenty busy on Friday, Aug. 10.
Besides appearing as one of the 10 speakers at Spinnin' a Yarn, presented as part of havin' a Time: Reunion 2012, Ms. Baggs will be playing later that night at another reunion.
"It's a reunion of the first band I ever played with – Dead Language," said Ms. Baggs, who graduated in 2008 with a major in cultural anthropology and a minor in English literature.
Dead Language consists of Matthew Hornell, Jonathan Bungay, Benjamin Rigby and Ms. Baggs. Their performance will begin at 10 p.m. at Nautical Nellies. They played together from 2007-09 before Mr. Hornell started his band Matthew Hornell and the Diamond Minds (Mr. Bungay was a key member of that band as well). Ms. Baggs and Mr. Rigby still play together as members of All the Wiles and he played on her solo record Home Again, Home Again. Coincidentally, Mr. Hornell will also be playing at the Back to Business reunion event from 5-7 p.m. at the Faculty of Business Administration.
In 2009, Ms. Baggs graduated from Memorial's Faculty of Education and has since travelled throughout Canada, taught kindergarten and Grade One and released three albums of folk music.
"Storytelling happens in different ways and music often plays a role," said the dedicated musician who will perform several songs at Spinnin' a Yarn.
"I've always had a deep love for language and music and the stories people tell about the ways life can be," she said. "Studying anthropology and English together made for a wonderful combination of culture and language, appealing to my natural preferences and opening up new areas to explore."
Memorial's Faculty of Arts is hosting Spinnin' a Yarn on Friday, Aug. 10, as part of havin' a Time: Reunion 2012. Billed as a celebration of storytelling and storytellers, the event features alumni and star faculty members telling their own tales.
Participants include CBC broadcaster Tom Harrington, Newfoundland Chocolate Company founder Brent Smith, folklorist Dale Jarvis, musicians Katie Baggs and Tom Power, faculty members Patricia Dold, Gerard Van Herk and Elizabeth Miller, archivist David Bradley, photographer and writer Dennis Flynn and graduate student Suzanne Power.
A super mixer in the lobby featuring music from Chris Youé and Glenn Collins, door prizes and a cash bar will follow the event in the Bruneau Centre's Innovation Theatre.
Spinnin' a Yarn begins at 7 p.m. and admission is $20. Alumni and friends can visit www.reunion.mun.ca/4305_spinnin_a_yarn.php for more information or to register.
Snapshot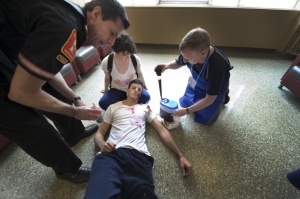 Role Play