Grenfell's Orientation 2012 welcomes new students
By Melanie Callahan | August 27, 2012
Transitioning to university life can be tough. Orientation 2012 is about making the move to Grenfell Campus as smooth as possible for new students.
"The goal of orientation is to reduce stress and provide students with a positive start to university," said Leslie Lewis, orientation programming co-ordinator. "The hope is that they make connections with other new students and feel like they are being welcomed to the Grenfell community."
Close to 300 first-year students are registered in activities which will provide them all they need to know about starting university, said Ms. Lewis.
FYI: Get Informed sessions will teach students about attending classes, paying tuition and fees and services to students. Parent orientation and orientation sessions for non-traditional students have been also been planned. But with activities like adventure challenges, pep rallies, fitness classes and open mic nights, orientation is also about having fun.
Orientation 2012 will begin Sunday, Sept. 2, with parent orientation. Main orientation activities are scheduled for Sept. 3 and will run until Sept. 5.
For further information or to register an event, please visit www.grenfell.mun.ca/orientation or contact Ms. Lewis at 709-637-6232 or ssorientation@grenfell.mun.ca.
Snapshot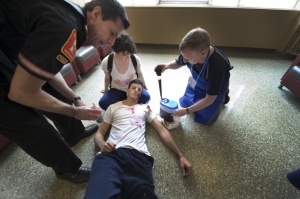 Role play