A new team for ISER
By Janet Harron | September 7, 2012
The Faculty of Arts is pleased to announce that Dr. Lisa Rankin, head, Department of Archaeology, has been appointed director of ISER (Institute of Social and Economic Research), and Dr. Sharon Roseman, Department of Anthropology, has been appointed academic editor of ISER Books.
Drs. Rankin and Roseman have a mandate to revitalize the institute and increase its profile in the global context. Both have three-year appointments.
ISER was established in 1961 to foster and undertake research into the many social and economic questions arising from the particular historic, geographic and economic circumstances of Newfoundland and Labrador.
"ISER has a very important history and at one point was the heart and soul of the Faculty of Arts. Both Sharon and I agree that we would like to see it there again," said Dr. Rankin, who just finished a year's term as the interim dean of arts.
Both Dr. Rankin and Dr. Roseman were "compelled" to come to Memorial's Faculty of Arts in the first place because of ISER's fantastic reputation for publications and research projects.
"For students ISER funding has been crucial – for many it is the only source of research funding that they have access to," said Dr. Roseman, who has extensive experience in publishing and editing academic journals and books and is currently the general editor of the series European Anthropology in Translation (Berghahn Books).
In the most recent 2011-12 competition, ISER awarded approximately $140,000 in grants on subjects ranging from offshore labourers and fatherhood to architecture as artifact.
ISER Books' most recent publication is Kindness, Kinship, and Tradition in Newfoundland/Alberta which looks at how traditions of kindness, passed down through generations of Newfoundlanders, influences migrations between Newfoundland and Alberta.
Both Drs. Rankin and Roseman are active researchers and recognize the importance of training up-and-coming researchers and fostering communication across disciplines in order to promote interdisciplinary work. They also acknowledge the support of Dr. Lynne Phillips, dean of arts.
"As an anthropologist, Lynne's well aware of ISER's past prominence and future potential," said Dr. Rankin.
For Dr. Rankin, the decision to make the three-year commitment to ISER is a simple one.
"To me, it's a very important organization for the Faculty of Arts. It's part of our history and deserves a chance to be as present for the new generation of faculty and students as it was for past generations – so I'm willing to work at it."
For more details on ISER, visit www.mun.ca/iser/about/.
Snapshot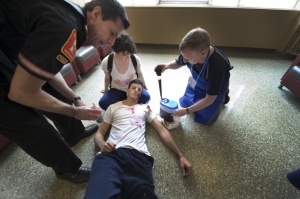 Role Play