Lorraine Busby reappointed as university librarian
September 10, 2012
Lorraine Busby has been reappointed as the university librarian for a three-year term, effective Sept. 1, 2012. Her appointment was approved by the Board of Regents at its Sept. 6 meeting. The Committee to Review the University Librarian recommended the renewal to Dr. David Wardlaw, provost and vice-president (academic), who accepted the recommendation; the provost and the president, Dr. Gary Kachanoski, then recommended the renewed appointment to the Board. Ms. Busby has served as university librarian since the fall of 2007.
"I look forward to my second term at Memorial University of Newfoundland working to provide exemplary library and information services to all members of the university community," said Ms. Busby. "It is an honour and pleasure to work with such dedicated librarians and staff who are committed to supporting the teaching, learning and research needs of our users."
A graduate of Queen's University with a bachelor of arts degree, Ms. Busby also holds a master of library science degree from the University of Western Ontario. She served as associate university librarian, information resources, at Western from 2001-07. Ms. Busby moved into the academic library world when she joined Western in the mid-1980s after beginning her career in a corporate library. She worked in almost all of the subject-based libraries at that institution in a variety of progressively more responsible positions.
While at Western, Ms. Busby served as the head of the Engineering Library, the Music Library, the Allyn and Betty Taylor Library and acting head of the Law Library. She has developed strong expertise in all aspects of collection development as she focused on building quality collections to meet the needs of students and faculty in learning and research activities.
Ms. Busby has undertaken project work and specialized assignments that have given her additional experience in human resource issues, space planning and corporate strategic planning. Her academic interests lie in exploring library and vendor interactions. She participates on regional and national consortiums to collaboratively acquire electronic resources.
She is regularly invited to speak to library students and at various library conferences on issues pertaining to the acquisition and management of library resources.
Snapshot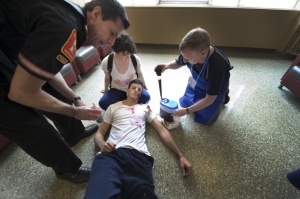 Role play