Short-listed candidates announced for deputy provost role
September 10, 2012
The Search Committee for the Deputy-Provost (Students) and Associate Vice-President (Academic) Undergraduate Studies has short-listed three candidates for the role. The three individuals have been scheduled to be interviewed on the following dates:
- Sept. 17-19: Dr. Clayton Smith, vice-provost, students and international, University of Windsor, Windsor, Ont.;
-Sept. 26–28: Dr. Rob Shea, acting deputy-provost (students) and associate vice-president (academic) undergraduate studies, Memorial University, St. John's, N.L.,
-Oct. 2–4, Dr. Cecilia Reynolds, professor and dean, College of Education, University of Saskatchewan, Saskatoon, Sask.
Curricula vitae and candidate statements are available on the provost's website at www.mun.ca/vpacademic/deputy_provost.php.
Each interview spans three working days and each candidate will visit Grenfell Campus, the Marine Institute and the St. John's campus.
Each candidate will be making a public (open) presentation on Memorial's St. John's campus; time and location to be announced.
Snapshot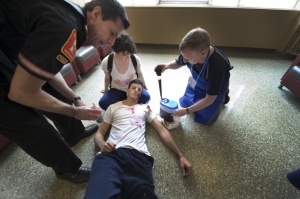 Role Play