CU Expo 2013 seeks proposals for international conference
By Pamela Gill | September 14, 2012
The 2013 Community-University Expo is looking for presenters who believe that university-community partnerships have the power to effect social change.
These presenters can come from just about anywhere and have any kind of background – community members, researchers, educators, students, funders, policy makers and community builders – real people with real ideas to strengthen the effectiveness of community-university partnerships.
CU Expo 2013: Engaging Shared Worlds, will take place in Corner Brook June 12-15.
The expo is a joint initiative of Grenfell Campus, Memorial University of Newfoundland, and the City of Corner Brook, with support from the provincial Rural Secretariat. The conference will bring together more than 500 individuals from all over the world, who will network, learn and more fully participate in community-university engagement.
The focus of CU Expo is to make real and lasting connections between community and campus partners.
"To make this happen we are looking for creative proposals that will genuinely engage participants," said Dr. David Peddle, program committee co-chair and associate vice-president (Grenfell Campus) academic. "Speakers have many options, from more traditional presentations and workshops to speed networking, round tables or storytelling. Really, the format of the session is wide open and limited only to the imagination of the person submitting the proposal."
The deadline to submit a proposal for consideration is Nov. 15, 2012. For more information or to submit your proposal online visit www.cuexpo2013.ca.
Snapshot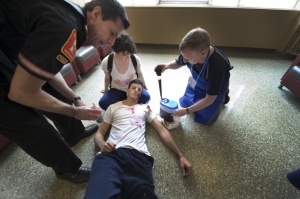 Role Play