Commemorative medal for economics professor
By Mandy Cook | September 25, 2012
Dr. Wade Locke, professor of economics at Memorial, has been awarded the Queen's Diamond Jubilee Medal.
Senator Ethel Cochrane applauded Dr. Locke's contribution to Canadian society in a recent letter.
"Over the years, you have freely offered your expert analysis and advice for the benefit of all Newfoundlanders and Labradorians," stated Ms. Cochrane. "You have enriched the national dialogue and provided a level of insight that is simply unparalleled. Your wise counsel has been deeply appreciated."
The commemorative medal, created to mark the 60th anniversary of Queen Elizabeth II's accesion to the throne as Queen of Canada, is a tangible way for Canada to honour significant contributions by Canadians. Sixty thousand deserving Canadians will be recognized.
"I was surprised, honoured and humbled to have received the medal that acknowledges my passion for knowledge mobilization and for making my expertise in public policy available to Newfoundlanders and Labradorians and other Canadians," said Dr. Locke.
Dr. Locke specializes in the Newfoundland and Labrador economy, resource economics, public finance, public policy, innovation indicators, productivity, economic impact assessment and cost-benefit analysis. He has published extensively in a variety of public policy fields.
Dr. Locke has provided his professional services to all three levels of the Canadian government, to foreign governments and to local, national and international businesses. He has assisted current and past premiers of Newfoundland and Labrador, federal and provincial cabinet ministers, members of Parliament of all three parties and members of the House of Assembly of all three parties, university presidents, mayors and town councillors and senior bureaucrats better understand public policy issues. He has helped senior executives of most oil and gas companies and mining companies operating in Newfoundland and Labrador to better understand issues related to this province's economy and to provide perspective on the importance of their industry to the provincial economy.

He has served as an expert commentator and analyst to the local, national and international media. He has given more than 200 interviews to local media, the Globe and Mail, CTV's W5, the Wall Street Journal, the London Times, journalist Rex Murphy and German national radio to name a few.
Dr. Locke has also been involved in more than 200 public presentations that form an important knowledge mobilization function of Memorial University.

Snapshot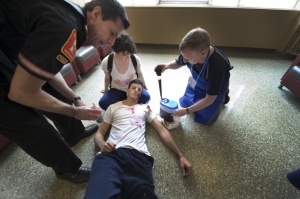 Role Play