Don't panic: Measured responses to the 'obesity epidemic'
September 20, 2012
The Newfoundland and Labrador Centre for Applied Health Research (NLCAHR) and NLCAHR's Research Exchange Group on Eating Issues, Disordered Eating and Body Image welcome Dr. Jacqui Gingras of Ryerson University's School of Nutrition for the next lecture in Research Talks, its series of free public lectures featuring leading Canadian health researchers.
Dr. Gingras will share her research about critical obesity studies, calling for a more measured response to the current "obesity panic" and raising questions about the correlation between weight and health.
Her lecture takes place at 7:30 p.m. on Tuesday, Oct. 9, at room IIC-2001, Bruneau Centre on the St. John's campus. Members of the general public are encouraged to attend.
"We are pleased to welcome Dr. Gingras to Memorial to share her research on critical dietetics. We expect her lecture to spark considerable debate, both on the general question of how weight and health are related and on the specifics of overweight and obesity in Newfoundland and Labrador," said Dr. Stephen Bornstein, director of NLCAHR.
Dr. Gingras will explore some of the complexities that underlie concerns with obesity, while encouraging health professionals, dietitians and policy makers to adopt more critical perspectives about food, weight and health.
"In terms of my research, I see the natural intersections with practitioners and government," she said. "I also see the natural tensions. Makes for a lively dialogue."
Research Talks are lectures by leading Canadian researchers who will discuss health and healthcare issues of concern to our local community that are chosen by members of NLCAHR's various Research Exchange Groups.
For more about this lecture, please visit: http://www.nlcahr.mun.ca/news.php?readhighlight=191.For more about Research Exchange Groups, please visit: http://www.nlcahr.mun.ca/research/affinity.php.
Snapshot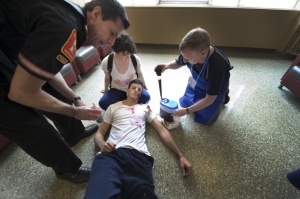 Role play