First Memorial grads of Canadian Child Health Clinician Scientist Program
By Sharon Gray | September 25, 2012
At a ceremony Sept. 12 the first 10 graduates of the Canadian Child Health Clinician Scientist Program (CCHCSP) received their certificates.
CCHCSP is a national certificate program for health care practitioners who have an interest in child health research. The program provides support for highly qualified child health clinicians and trainees to begin to develop the requisite knowledge and skills for a career as an independent scientist in child health research.
The program was offered at Memorial for the first time in 2011–12 and the cohort had a multidisciplinary group of students, including clinical staff, medical residents, medical students, nurses and nursing faculty.
This year's graduates were Andrea Brennan-Hunter, assistant professor of nursing; Marlene Browne and Denise English, Centre for Nursing Studies; Drs. Alison Haynes, Erin Peebles and Colleen Nugent, pediatric residents; Dr. Anne Drover, Division of Pediatrics; Laura Murphy, medical student, Joanne Simms, Division of Adolescent Medicine, and Eva Tucker, pediatric research assistant.
At the program's last national annual meeting, Memorial was singled out for praise for having 10 of the program's 20 national graduates.

The site leads for the program at Memorial are Drs. Leigh Anne Newhook and Roger Chafe from the Division of Pediatrics. The program is starting its second cohort of students this September. More information is available at the Janeway Pediatric Research Unit website.

Snapshot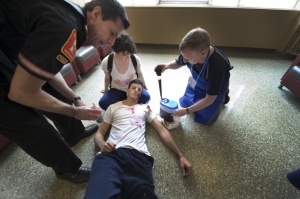 Role play