Experts weigh in on provincial aging centre
By Melanie Callahan | September 25, 2012
Janice Keefe, a professor in the Department of Family Studies and Gerontology at Mount Saint Vincent University, recently kicked off the Aging Research in Newfoundland and Labrador: Achievements and Prospects conference taking place on the west coast of Newfoundland.
"We have about 85 conference delegates representing the research, education and health care sectors," said Carla Wells, conference chair. "We also have seniors from the community. We are excited to have such a diverse group. Newfoundland and Labrador is going to have the oldest population in the country. Aging is something that affects us all, no matter where we live or what profession we work in."
Dr. Keefe discussed the accomplishments and challenges of aging research in Atlantic Canada. The conference also featured keynote addresses including The Quebec Alzheimer Plan: The Never-Ending Cycle from Practice to Policy to Research and Back presented by Howard Bergman; An Appropriate and Cost-Effective Health Care System for an Aging Society presented by Neena Chapell and Community Engagement in Aging Research presented by Anne Martin-Matthews.
A planning symposium for a Newfoundland and Labrador Centre on Aging will take place on Tuesday. A series of panels will discuss analysis on the Provincial Centre on Aging initiative, a survey of similar centres across the country, a discussion of partnerships and community engagement and a needs assessment for a provincial aging centre.
The conference is made possible with support from the Grenfell and St. John's campuses, Memorial University, the Newfoundland and Labrador Centre for Applied Health Research, the Government of Newfoundland and Labrador, the Western Regional School of Nursing, Western Health, and the City of Corner Brook.
For more information, please contact www.researchonaging.ca.
Snapshot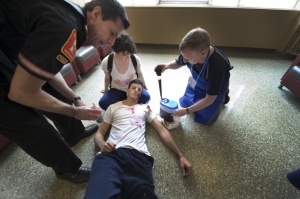 Role Play