Jarislowsky Chair looking at immigration issues in smaller cities
By Janet Harron | September 26, 2012
Dr. Abdie Kazemipur is setting into his role as the first Stephen Jarislowsky Chair in Culture Change in Rapidly Developing Modern Societies, housed in the Faculty of Arts.
A sociologist, Dr. Kazemipur comes to Memorial from the University of Lethbridge and is originally from Iran.
The mandate of the $2-million chair is to examine issues related to immigration and culture change. Among his numerous projects, Dr. Kazemipur is a co-investigator on a current SSHRC-funded project, Pathway to Prosperity, which focuses on immigration retention and integration in smaller Canadian cities, such as St. John's.
"In smaller cities, immigrants have additional challenges for integrating into the local communities. They do not have their own communities, and they are very visible," said Dr. Kazemipur. "What's particularly exciting about the mandate of this chair position is that it gives us an opportunity to address these issues before and as they happen, rather than waiting for things to happen and then deal with the consequences."
Historically, this type of research has focused on larger Canadian cities – what Dr. Kazemipur refers to as the "MTV (Montreal /Toronto/Vancouver) effect".
"One of the reasons immigrants have traditionally gone to larger cities, in addition to the greater economic opportunities, is that there are larger communities of similar origins … in smaller cities social integration can become a big issue."
As Newfoundland and Labrador enters a new stage in its economic development, the ability to attract and retain new immigrants becomes of vital importance. Dr. Kazemipur's research will assist the provincial government in advancing its immigration strategy. A representative from the provincial Office of Immigration and Multiculturalism sits on the project's advisory board, as well.
In addition to Pathway to Prosperity, Dr. Kazemipur is embarking on a cross-disciplinary project with Dr. Jennifer Selby of the Department of Religious Studies dealing with the negotiation of identity among Muslims in St. John's.
The Montreal-based Stephen Jarislowsky Foundation, local philanthropist Elinor Gill Ratcliff and the Provincial Government of Newfoundland and Labrador fund the Stephen Jarislowsky Chair in Culture Change in Rapidly Developing Modern Societies. It is a renewable five-year appointment.
Snapshot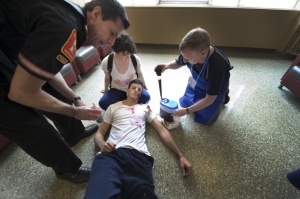 Role Play