School of Social Work launches online journal
By Laura Woodford | September 26, 2012
Memorial University's School of Social Work and editors Dr. Brenda LeFrancois and Dr. Ken Barter are pleased to announce the inaugural issue of the journal Intersectionalities: A Global Journal of Social Work Analysis, Research, Polity, and Practice.
The purpose of Intersectionalities is to share knowledge and facilitate collaborative discourse amongst social work theorists, practitioners, educators, activists, researchers, and the community members they serve.
Intersectionalities aims to underscore issues relating to oppression, privilege and resistance in society and social work. Of critical consideration are how intersections of age, disability, class, poverty, gender and sexual identity, madness, spirituality, geographical (dis)location, rurality, colonialism/imperialism, indigeneity, racialization, ethnicity, citizenship and the environment are enmeshed in processes of social justice and injustice.
Access the journal here: http://journals.library.mun.ca/ojs/index.php/IJ/issue/current.
Snapshot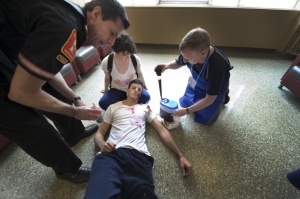 Role Play