Diamond Jubilee Medal for music educator
By Heidi Wicks | September 27, 2012
Dr. Andrea Rose, Faculty of Education, has been awarded the Queen's Diamond Jubilee Medal for her outstanding career as a music educator, community leader -- she is the artistic director of Festival 500 Sharing the Voices International Choral Festival -- and her work as an honorary aide de camp at Government House with Lieutenant-Governor John Crosbie and Mrs. Jane Crosbie.
The commemorative medal, created to mark the 60th anniversary of Queen Elizabeth II's accession to the throne as Queen of Canada, is a tangible way for Canada to honour significant contributions by Canadians. Sixty thousand deserving Canadians are being recognized with this award. Dr. Rose received her medal at a ceremony held recently at Government House.
Dr. Rose has been active as an educator, researcher, performer, clinician and adjudicator and has been a professor at Memorial University since 1990. She enjoys an active role in the ongoing development of music and arts education at local, national and international levels.
She has published articles, book chapters, a book and monograph, has been a keynote speaker and presenter at numerous national and international conferences and is the author of State of the Art: Arts and Cultural Education in Newfoundland and Labrador (2006), a commissioned study for the Government of Newfoundland and Labrador.
In addition to her work with Festival 500, Dr. Rose serves on a variety of local-international boards and committees for organizations such as the Newfoundland Symphony Orchestra, Government of Newfoundland and Labrador, Debut Atlantic, Canadian Music Educators' Association (CMEA) and the International Society for Music Education (ISME).
For the past two years, she has been an active member on the working groups for both the Teaching and Learning and Public Engagement Frameworks at Memorial University.
Snapshot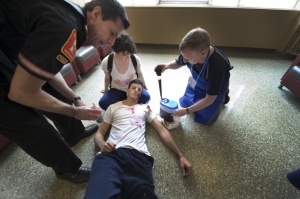 Role Play