PhD student wins first place in national competition
By Sharon Gray | October 9, 2012
Justin King, a first-year PhD student in Dr. Mani Larijani's laboratory in the Division of Biomedical Sciences, Faculty of Medicine, was awarded the first place poster prize at the Canadian Society for Immunology annual conference held this summer.
Mr. King's poster and presentation were judged by professors from universities across Canada and ranked first amongst 73 posters entered into the competition. Mr. King's poster was based on his undergraduate B. Sc. (hons.) project completed in Dr. Larijani's lab in April 2012 and work during his first two months as a PhD.-candidate graduate student.
The project explores the structure-function relationships of the enzyme activation-induced cytidine deaminase, which is involved in immunodeficiency and cancers such as leukemia/lymphomas. Mr. King's work in Dr. Larijani's lab during the past year has contributed to one published manuscript, one submitted manuscript and two manuscripts currently in preparation.
This research is supported by a Canadian Institutes of Health Research (CIHR) operating grant and Mr. King holds a PhD fellowship from the Beatrice Hunter Cancer Research Institute.


Snapshot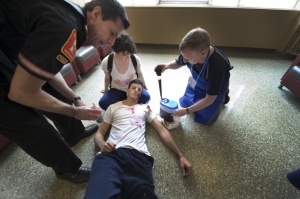 Role Play