Waste Reduction Week activities on St. Johnís campus
October 12, 2012
Groups and individuals from across Canada are celebrating Waste Reduction Week from Oct. 15 -21 by rethinking, reducing, reusing and recycling.
Memorial's Sustainability Office and the provincial Multi Materials Stewardship Board (MMSB) will mark Waste Reduction Week on Memorial's St. John's campus with some special presentations on Monday, Oct. 15.
The Sustainability Office will present What's in Memorial's Garbage? Waste Audit Results and Discussion from 12:30-1:15 p.m. in The Loft on the third floor of the University Centre. Take a peek into the garbage produced on the St. John's campus during a waste audit of several buildings in 2011-12. Discover what some of the overall trends are on campus. Are we doing a good job at recycling and reducing? Then, discuss what you can do to help reduce waste.
Just outside The Loft from 11:30 a.m.-2 p.m., visit the MMSB waste reduction experts and make your own "Big Green Up" environmental pledge. Plus, there will be waste-free giveaways. Keep your eyes peeled in the Engineering building -- there may be an exciting stunt taking place!
The Sustainability Office focuses on sustainability initiatives at the university including waste reduction while the MMSB's goal is to inspire Newfoundlanders and Labradorians to rethink their wasteful habits and focus on developing new waste reduction habits.
For more information, please visit
Snapshot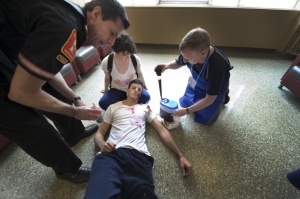 Role Play