Board chair plans to step down
October 12, 2012
Robert Simmonds, chair of Memorial's Board of Regents, has informed his fellow board members and the executive of the university that he will be stepping down as chair later this fall.
The chair is appointed by the provincial government and Mr. Simmonds has advised the minister of advanced education and skills of his intentions. Mr. Simmonds was first appointed to the Board of Regents in 2008.
"I want to thank Mr. Simmonds for his tireless work on behalf of the university," said Dr. Gary Kachanoski, president and vice-chancellor.
"During Bob's time as chair, Memorial benefitted greatly from the considerable skills he brought to our community. He is a man of great integrity. He has been a tremendous supporter and advocate of the university and higher education in the province.
"Personally, I came to this university under his leadership and his common sense, guidance, passion and unfailing good humour have been invaluable to me and to our executive. We will all miss his contributions and we certainly wish him well as he continues his very successful professional life."
Mr. Simmonds' resignation will be effective Nov. 21.
"The position of board chair and the relationship between the chair and the president are vital to the university," said Dr. Kachanoski. "We are confident that the minister and the government will move quickly to find Mr. Simmonds' successor. But in the interim, Bob will continue with us for a number of weeks, we have a strong vice-chair in Eleanor Swanson who has many years of experience on the board and we have a superb group of regents. So the governance of the university remains in strong hands."
Snapshot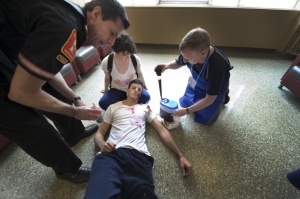 Role play