Calgary mayor to deliver 2012 Galbraith lecture at Memorial
By Rebecca Cohoe | October 22, 2012
The 2012 John Kenneth Galbraith Lecture in Public Policy will be delivered by Calgary Mayor Naheed Nenshi. Watch here to see the live webcast. Known for his grassroots approach to municipal politics and a Twitter persona that could put most Hollywood celebrities to shame, Mr. Nenshi will bring his considerable knowledge and expertise to the topics of community building and civic engagement.
The lecture will take place on Thursday, Oct. 25, beginning at 7:30 p.m., at Innovation Hall in the Bruneau Centre for Innovation and Research (the former Inco Innovation Centre). All members of the public are welcome to attend, and the event will be webcast live at www.mun.ca/harriscentre to ensure that those unable to attend in person are still able to participate. The audience will have a chance to interact with Mr. Nenshi during the ensuing question and answer session.
The John Kenneth Galbraith Lecture in Public Policy is a joint presentation of the Office of the President, the Faculty of Arts and the Harris Centre. The lecture is intended to bring outstanding figures to Memorial University, whose work reflects a commitment to excellence in scholarship and public affairs.
Personal empowerment and civic engagement formed the core of the successful 2010 election campaign that made Mr. Nenshi the first Muslim mayor of Calgary and, arguably, the most social media savvy candidate in the city's history.
Mr. Nenshi's campaign, dubbed The Purple Revolution, has become a textbook example of the potential power of social media and the internet in political campaigning. With more than 70,000 followers on Twitter, Mr. Nenshi has continued to communicate with his supporters, and sometimes even detractors, via social media, soliciting opinions, sharing ideas and responding to concerns.
Free parking is available in lot 15B, adjacent to the School of Music. A reception will follow the event. No reservations are needed, but attendees are encouraged to arrive early to ensure a seat.
Snapshot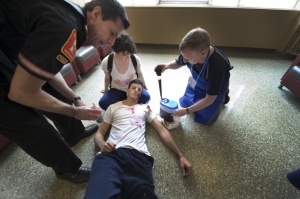 Role play