Students in Free Enterprise to undergo name change
By Susan White-MacPherson | October 25, 2012
SIFE Memorial will soon be changing its name.
Students in Free Enterprise (SIFE), a global program that helps university students to create community empowerment projects through the application of business and entrepreneurial concepts, has changed its name to Enactus. The new name and brand was launched during the Enactus World Cup from Sept. 30-Oct. 2 in Washington, D.C. SIFE Memorial represented Canada at the international business student competition.
Teams from around the world now have one year to implement the change at the university level.
"We're pretty excited to see what this does for the teams and for the organization nationally," said Nicole Almond, president of Advancing Canadian Entrepreneurship (ACE), which operates the SIFE program in Canada. "I think [the new name] does a much better job of explaining what this organization is all about."
ACE will also be changing its name within the next six to eight months.
The word "enactus" is intended to be a combination of three words: entrepreneurial, action and us.
Ms. Almond says the new brand emphasizes the global reach of the program.
"It encompasses that there is an entire community behind what we do."
Lynn Morrissey, assistant professor of communications at the Faculty of Business Administration and faculty adviser to SIFE Memorial, says the team is currently exploring how best to roll out the change. It's the second time that the team will have to change its name (it was ACE Memorial prior to adopting the SIFE moniker).
"The confusion is what I fear," said Prof. Morrissey, "but we're managing it. We're going to be smart about rolling out this new brand."
Teams were aware of the impending change before arriving at the world cup. Prof. Morrissey says members of SIFE Memorial were prepared with pre-written social media posts to immediately start associating SIFE with the Enactus brand once the name was announced during the opening ceremonies. They also quickly secured social media usernames and a URL that would reflect the name change.
"As any organization would say, the rebranding process is always a challenge."
SIFE Memorial will be announcing its new name in the near future.
About 57,000 students from 1,600 universities in 39 countries currently participate in Enactus programs.
Snapshot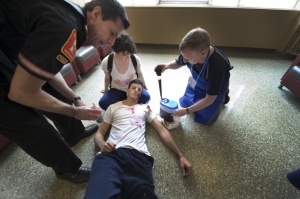 Role Play