Graduate studies information session for Memorial employees
By Shannon O'Dea Dawson | October 26, 2012
You can have it all. And Memorial University will help you get there.
Steve Lawlor, manager of fellowships and awards with the School of Graduate Studies, has been inspired by his colleagues to pursue graduate studies. You, too, can pursue a master's or doctoral degree while employed at Memorial.
Learn more about this opportunity at an information session on Tuesday, Oct. 30, from 1-2 p.m. in IIC-2014, Bruneau Centre for Research and Innovation. It is co-presented by the School of Graduate Studies and the Department of Human Resources.
To become a graduate while you work, Memorial offers reimbursement for all or part of master's and doctoral tuition at Memorial. To register for the session, or to learn more about graduate programs, contact Elizabeth Noseworthy at enosewor@mun.ca or ext. 2480.

Bring your lunch and learn about how to live on the edge at Memorial while pursuing your kind of freedom. For more information on graduate programs at Memorial, submit an inquiry at www.mun.ca/become/graduate/contact/knowmore.
Snapshot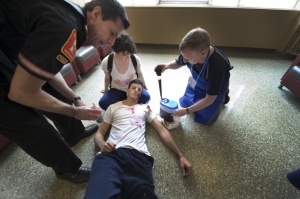 Role Play