LEAP of faith
October 26, 2012
Memorial's 2012 Leadership Education and Preparation (LEAP) program is a two-day event on the St. John's campus that provides an opportunity for Level III students from across Newfoundland and Labrador to engage in intensive leadership training.
About 120 students arrive at noon on Sunday, Oct. 28, to live and breathe all things Memorial. Each student will be paired with a first-year Memorial student mentor and they will have the opportunity to experience Memorial student life first-hand.
"This amazing experience better prepares incoming students for post-secondary life with a full slate of activities," said Krystal Donahue, student life programs co-ordinator, Student Success Programs with Student Affairs and Services.
Student Success Programs has co-ordinated the highly successful LEAP program since 2009. When the students are not sleeping in the Physical Education gymnasium on air mattresses, they have a full schedule planned.
Some of the most popular events include the Campus Tour Scavenger Hunt, and the Birds of a Feather workshop where students learn their own powerful personal leadership styles.
"This is a very impactful and successful workshop, and students just love the process of self-discovery," said Ms. Donahue.
Also on hand to present to LEAP students will be Grenfell Campus representatives and recruiters from the St. John's Office of Recruitment.
Student Success Programs at Memorial University strives to provide an environment of inclusion and excellence in leadership development. The first step is getting students in the door and, from there, according to Ms. Donahue, "we welcome them with open arms to the Memorial community."
For more, see http://www.mun.ca/leadership/leap/index.php.
Snapshot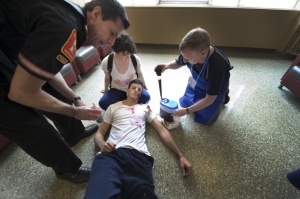 Role play