Providing and finding inspiration
By Marcia Porter | Oct. 25, 2013
Part of a special feature highlighting 2013 fall graduates.
Deanne Smith walks softly and carries a big yoga ball. Not literally, of course. It's hard to stuff a giant yoga ball into her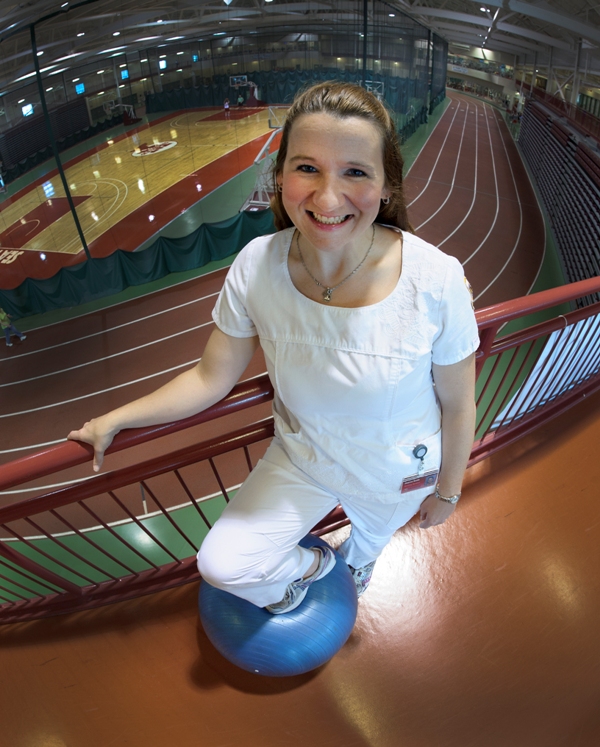 backpack.
But Ms. Smith's background as a fitness instructor and personal trainer helped her juggle life as a nursing student in the School of Nursing's (SON) demanding fast-track bachelor of nursing (BN) program, all the while finishing up a master's degree in kinesiology and parenting two young children. She recently completed her BN degree requirements.
"Fitness helped save me," said Ms. Smith, who earned previous degrees in kinesiology and physical education from Memorial. "It was good for my head, for my heart and my soul."
Other life-saving credits go to her family for providing the child-care support she needed to complete her programs and become a registered nurse.
"They were so fabulous," she said. "They took my children everywhere. Without them I could never have accomplished this."
But why put herself through such a grueling pace?
"I had found a niche with training and personal fitness instructing, but I felt that I wasn't completely doing my job . . . caring for people the way I wanted," she said. "I really love to learn, and I wanted to be the best I could be at what I was doing."
Ms. Smith's children were the motivating force in her life, giving her the drive she needed to work hard. She wanted to better herself for them.
It was while working as a teaching assistant in the SON's anatomy lab that it came to her: a career in nursing would allow her to use all of her background experience in a holistic way.
So she applied for the fast-track program, convinced that she could handle the demands of her nursing program while completing her master's in kinesiology, which she received during a spring convocation ceremony earlier this year.
There was little time to celebrate her accomplishment as she became busy with her nursing program.
"I've had an amazing experience at the school," said Ms. Smith, who says the structure of the fast-track program made her feel like a nurse pretty quick.
"I liked that I was learning and doing practical components simultaneously. I've had fabulous clinical instructors and preceptors [nurses who serve as mentors] and great experiences on each of the floors I've gone to. I've really been fortunate."
Ms. Smith is putting her education to work at St. Clare's Hospital, currently working on a medical-surgical floor where she did one of her clinical rotations. She hopes that her story will encourage others in similar circumstances.
"Just keep plugging away."