Alumna makes a difference in Haiti
By Sharon Gray | Dec. 10, 2013
Long before much of Haiti was devastated by an earthquake in January 2010, Dr. Tiffany Keenan, Class of 1998, was working in Haiti to build a health program in the rural area of Bod Me Limbe. On Dec. 5, she made a presentation at the medical school titled Grassroots Up: Building a Health Program in Rural Haiti, as part of the Global Health Speakers Series.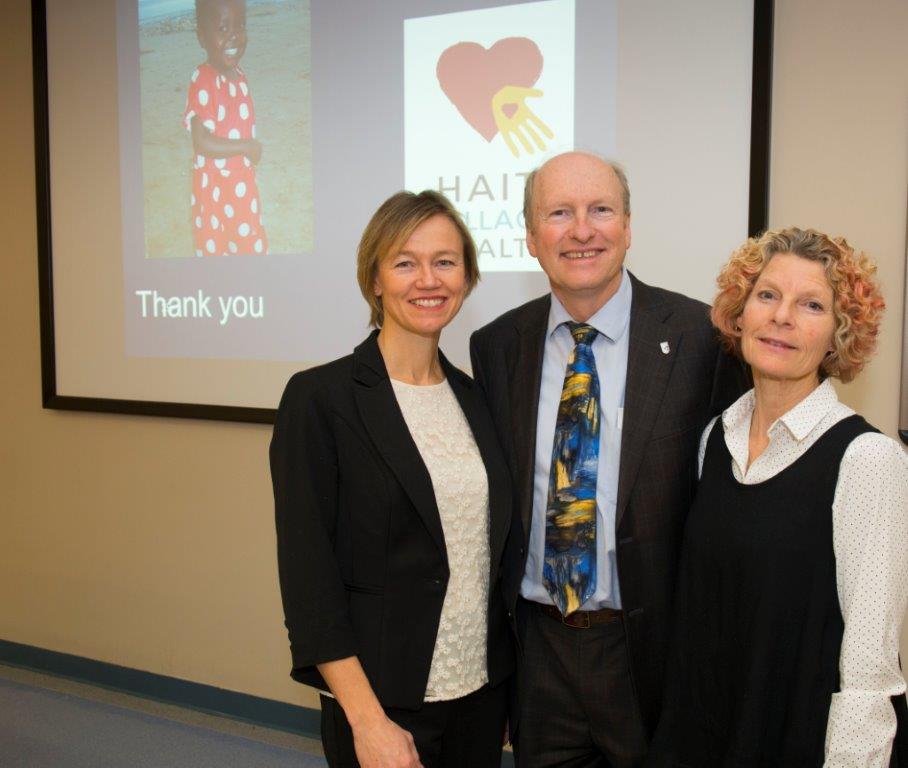 Dr. Keenan is a Canadian emergency physician who founded HaitiVillageHealth, dedicated to providing front line medical care, health education and nutritional support in a region where these services have never existed. The project is working with the village of Bod Me Limbe to ensure access to clean water and sanitation, essential to maintaining a minimum standard of health.
"HaitiVillageHealth is dedicated to self-sufficiency and sustainability," said Dr. Keenan. "Our goal is to assist the people of Bod Me Limbe with the future they are building with their own hands."
Dr. Keenan's interest in global health began during her time at medical school. She had planned to travel to Nigeria with a group organized by Dr. Bob Walley, but that trip didn't materialize due to a military coup. Following her graduation, Dr. Keenan pursued a residency in family medicine at Queen's University in Kingston, Ont. She returned to her hometown of Miramichi, N.B., in 2000 to practise and subsequently moved into emergency medicine with the Miramichi Regional Hospital in 2002. 
Having travelled to Haiti on several occasions with fellow Memorial medical school alumna Dr. Colleen O'Connell, Dr. Keenan travelled to the Democratic Republic of the Congo to do a brief stint with U.S.-based Medical Missionaries. Upon her return, she began the process to establish Haiti Village Health in the remote village of Bod Me Limbe.
With the goal of self-sufficiency for the region by 2015, Dr. Keenan is pleased with the progress that's been made in Bod Me Limbe.
"To date, one project has achieved completion, three are underway and several projects are currently being planned in conjunction with community committees. We are extremely grateful to our sponsors for this program who have made all this possible. In February 2012 we launched a project known as WASH – water, sanitation and hygiene."
Dr. Keenan said that although Bod Me Limbe was not directly affected by the 2010 earthquake, it did result in a lot of in-migration from Port au Prince. The city of Jacmel in southern Haiti was 60 per cent destroyed, so Dr. Keenan's group flew people in and tackled the cholera epidemic that started in October 2010.
"Because of our rapid response, we became a cholera treatment centre in co-operation with Médecins sans Frontières."
Dr. Keenan said the work in Bod Me Limbe is done by a combination of Haitian staff and volunteers.
"We have 11 peripheral sites; our goal is to tackle what we can deliver – listening to the people is what makes it sustainable. Haitians have great training programs, but often it's a matter of supplies."
Current work in Haiti includes hiring health workers, latrine construction, water chlorination, mosquito net distribution, distributing women's vitamins and providing deworming medications."
For further information on the HaitiVillageHealth project, visit http://haitivillagehealth.ca/whoarewe.php.EArthwualke.