The Gazette makes its move; Jan. 27 last print issue
By Mandy Cook | Jan. 22, 2016
As Lord Taylor of Harlow wrote in the inaugural issue of the Gazette, a 12-page, black and white mimeographed product measuring about 7 x 8.5 inches, "every complex organization has to develop a nervous system."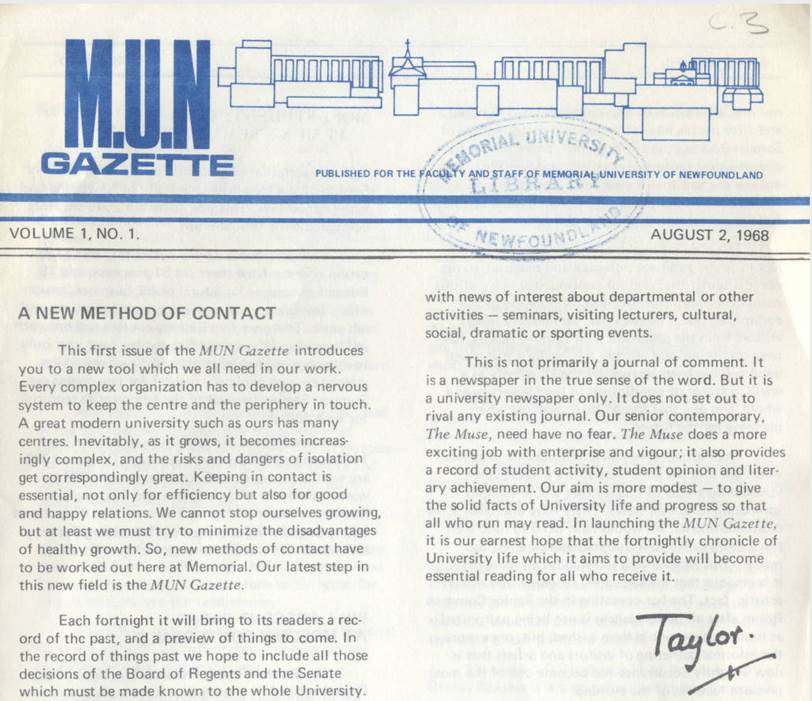 On that second day of August 1968, the then-president and vice-chancellor of Memorial identified the newspaper as an essential "new tool" the university community needed to keep in contact―"not only for efficiency but for good and happy relations."
The team at Marketing & Communications couldn't agree more. We work hard every day to keep you informed and enlightened with the information you want and need. We also work hard to anticipate where and how you find it. While the print vehicle has an undeniable appeal to many and offers unique qualities, many post-secondary institutions―the University of Toronto and the University of British Columbia among them―have transitioned from print to online for a variety of reasons.
The argument is compelling. With the ubiquity of personal handheld devices, we know the vast majority of our audience is consuming news content online. And for good reason: a digital news site offers incomparable storytelling ability―you'll see stories enhanced by video, sound, illustrations and photo essays in addition to compelling text-based narratives on the online Gazette―and the potential to reach a worldwide audience, thanks to Memorial's robust presence on social media channels such as Twitter and Instagram.
Going digital will not only allow us to tell stories in an engaging and visually rich medium, it will also allow for a responsiveness to the rapidly changing news cycle that a printed newspaper simply cannot provide. This, in addition to supporting Memorial's sustainability pledge, a sensitivity to cost savings and explicit feedback received from our readership survey, has made the decision to cease the print publication of the Gazette a natural one.
So, as Lord Harlow identified the printed Gazette as a "new tool" almost 50 years ago, the online Gazette is Marketing & Communications' offering of this generation's news-telling vehicles. From in-depth research stories to faculty-penned op-eds to familiar features like Books at Memorial, there will be something to suit everyone's curiosity.
Visit the Gazette online on Wednesday, Jan. 27, as we go live; be sure to subscribe so you don't miss anything. We'll send Memorial's best stories and events straight into your inbox every two weeks to keep you up-to-date, plus share them regularly via Facebook and Twitter.
Enjoy! And let us know what you think―we're all ears.
Mandy Cook is news editor, Marketing & Communications, at Memorial University. She can be reached at mandyc@mun.ca.